Services
National Ambulance
Public and Private Emergency Medical Services (EMS)
Serving UAE communities with quality emergency medical services
We provide a wide range of emergency medical services (EMS) to the private and public sectors. This includes providing comprehensive urgent pre-hospital medical care for serious illness or injury, whether it is in a public setting or an immediate onsite response. Through an integrated and seamless EMS system, our qualified clinical staff; combined with advanced medical and communications technology, fully equipped ambulances, medication, and coordinated response; enable us to provide the appropriate care for patients in any type of medical emergencies, public health crisis or trauma. Our services are organised into distinct sub-services as follows:
Public Medical Emergency Response
Our comprehensive public emergency medical response is integrated with other public emergency services and systems intended to maintain and enhance the public's health, safety and security. This includes thoughtful planning and close coordination with regulatory bodies,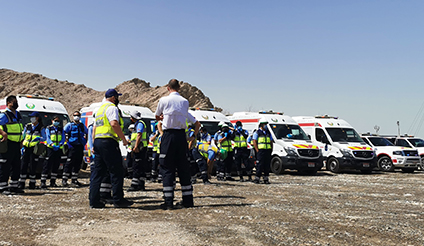 Police, Civil Defense, Government hospitals and other stakeholders, as well as complying with legislative and regulatory requirements and industry standards. From receiving a call from within our areas of operations via our ambulance communications centers, ambulance resources are dispatched to the scene to manage, stabilise and treat patients before they are transported to hospitals, either via ground or air, to receive further treatment.
To complement this service, we also provide education and awareness programmes to raise public understanding of the ambulance service and inform people what to do in a medical emergency.
Helicopter Emergency Medical Services (HEMS)
Together with our aviation partners, we provide dedicated Helicopter Emergency Medical Services (HEMS) to respond and transport critically ill or injured patients from the scene to emergency departments at hospitals.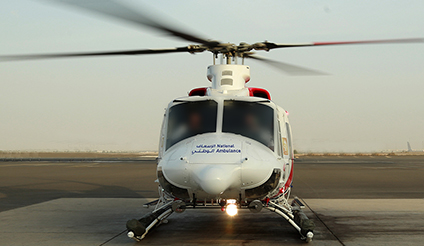 In addition to public response, the service is also provided as part of contractual agreements to cover remote onshore and offshore locations, such as oil and gas fields or military bases to ensure the delivery of an enhanced emergency response capability. Our service also includes inter-facility patient transport in which patients receive the appropriate medical care during their transport between hospital facilities. The comprehensive emergency healthcare response we offer is consistent with legislation and regulations as well as international best practice standards for aviation safety and clinical care.
Onsite Medical Support
We offer long-term onsite emergency medical support with licensed medical staff and fully equipped emergency vehicles for a variety of circumstances.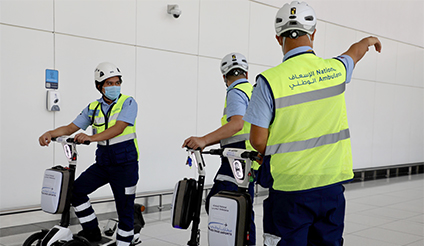 This can be arranged for small or large-scale organisations, in public or secure locations, at venues with high visitor numbers and in remote locations or offshore facilities. This onsite medical response provides peace of mind to staff and management that highly trained personnel are ready to deal with any type of emergency or critical health and safety situation.
We can help you assess your site needs and industry requirements and ensure providing the right level of support with the appropriate resources for your business
Find out more about our Emergency Medical Services and what National Ambulance can offer your organisation
Our team will get back to you as soon as possible
Enquire Now