OUR SERVICES
National Ambulance
Why Choose Us
Ambulance services play a vital role in saving lives and are a crucial link to survival in the chain of care. Maintaining high standards of health and safety whether it was at workplaces, sites or public venues is proven to add value as well as providing security and peace of mind. Ensuring the right care is available at the right time and place can make a significant difference, which benefits both organisations and the nation.
At National Ambulance we put the needs of our patients and clients first, and use the latest technology and ambulances to provide a reliable and high quality service. Our specialised and highly trained teams of Doctors, Paramedics and Emergency Medical Technicians (EMTs) provide different levels of emergency pre-hospital care from basic life support (BLS) to advanced life support (ALS) through a variety of emergency care solutions and services tailored to clients' needs and consistent with local regulations and international best practice.
Pre-hospital Care Levels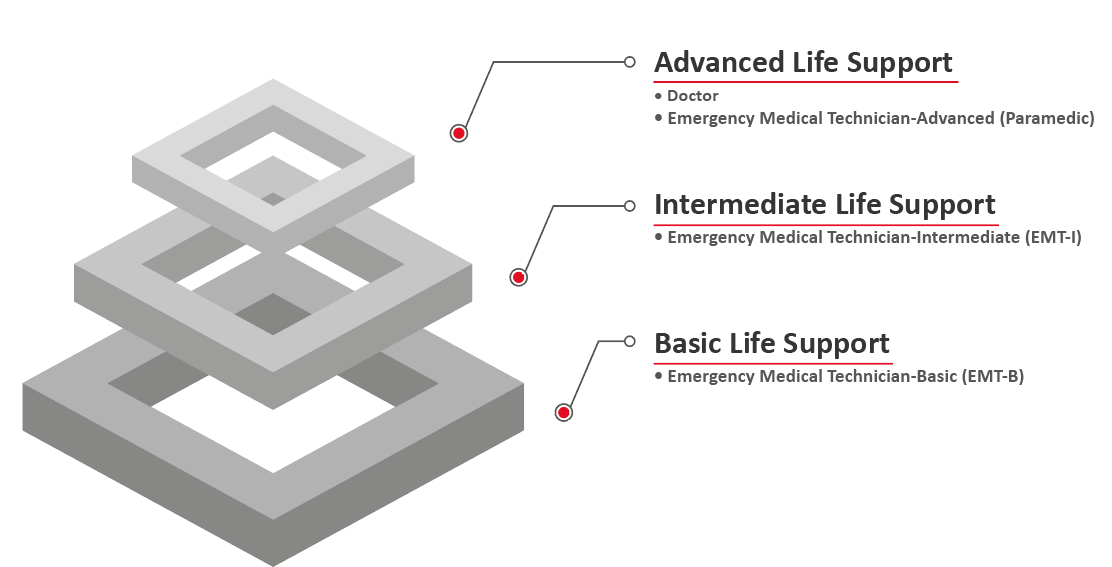 Internationally Recognised Training Centre
National Ambulance is an internationally recognised Training Centre, accredited by the American Health Association (AHA), the National Association of Emergency Medical Technicians (NAEMT) and the American Health and Safety Institute (ASHI). We offer a wide range of educational and training courses that fall under community programmes, international accreditations, EMS Education and EMS projects.
Excellence at National Ambulance
Proven experience in delivering reliable emergency medical services in the UAE since 2010 and in covering high profile global events
A modern fleet of fully equipped ambulances consistent with international standards
Highly experienced, qualified and professional personnel
Utilises latest EMS communication technologies and emergency medical equipment
Internationally recognised training centre accredited by AHA, NAEMT and ASHI
Accredited by Joint Commission International (JCI) and certified according to ISO 9001, ISO 14001 and ISO 45001 standards
Applies a quality approach in clinical governance, which complies with local legislation and regulations, while also adopting international standards
A strong clinical auditing framework that improves our service delivery and the quality of patient outcomes
Recipient of national and international awards