Clinical Education and Training
Comprehensive EMS Educational Solutions
National Ambulance is one of the nation's largest authorised providers of American Heart Association (AHA), National Association of EMT (NAEMT) and Authorized American Safety & Health Institute (ASHI) training. In addition, our Education and Training centre offers different certification in life support and other types of emergency response programmes. We are also an authorised National Registry of Emergency Medical Technicians Recertification site. Our Educators follow the National Association of EMS Educators methodology in delivering EMS education and have extensive experience in teaching people how to save lives and have certified hundreds of thousands of people across the UAE and region. Adopting a quality-centred approach and focusing on achieving academic excellence, our Education and Training division operates within five main areas: International Accreditations, EMS Education, Organisations and Individual Training, Community Outreach Programmes and EMS projects.
International Accreditations and EMS Certification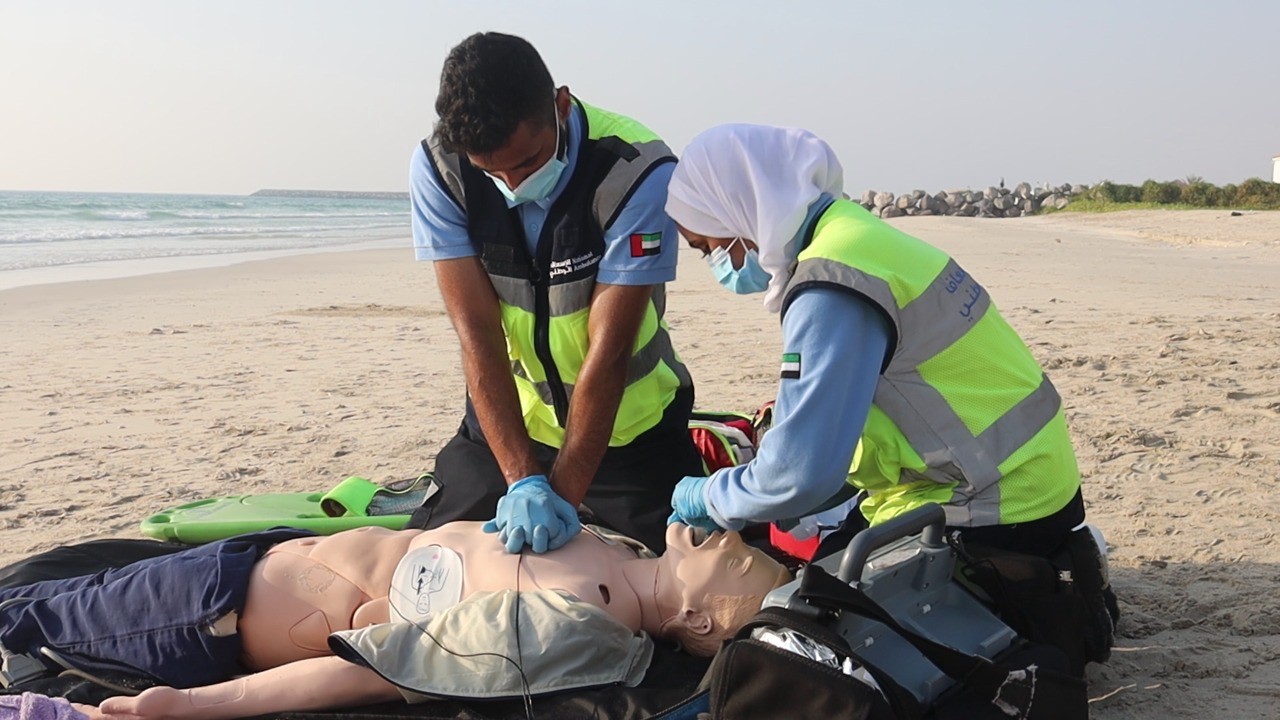 To remain current on the ever-expanding knowledge and skills required of EMS professionals, we pride ourselves on being a one-stop solution for EMS practitioners and medical professionals where they can achieve their certifications for their basic and advanced disciplines including EMT/ Paramedic certification, EMS certification and professional development CME training. Our centre offers class room and online blended learning via an interactive learning environment to practice and maintain life-saving knowledge and skills in accordance with international best practices. We use the latest technology including simulation-based learning on a variety of EMS clinical scenarios, directive real-time feedback devices, online eLearning, virtual learning and remote skills verification to support learning and courses objectives.
Training and International Certification
Organisations and Workplaces
If an accident or incident happened at your workplace, do your employees know what to do? Every second counts if a person has a heart attack or a serious accident. We offer onsite workplace training and classes to organisations across the country. We can provide your employees with the awareness and competencies required in an emergency situation giving your organisation the assurance of the best in training.
We are able to fulfil your organisational safety training needs by offering flexible and convenient options for international certification. From traditional classrooms to blended learning and virtual classrooms, we can equip your employees with the vital knowledge and skills to handle workplace incidents. We can develop a customized First Aid CPR AED programme including AED implementation and provide Emergency Medical Response, Emergency Vehicle Operator Safety courses and more for organisations.
Individuals
We offer First Aid CPR AED Training, emergency medical response (first responder) and community emergency response team programmes for the general public across the UAE. We provide in-person and convenient blended learning training options. With blended learning the online portion can be completed at your own pace and the skills assessment can be done through a short session at one of our training sites.
EMS Projects
The objective of our EMS projects is to achieve continuous improvement in emergency services in different communities and settings by revising existing standards, developing new ones and utilizing new technologies. The process also includes identifying high risk situations and setting the right prevention strategies for them. Implementing these standards and strategies enhance people's safety and health hazard prevention.
For any organisation or community group looking to enhance their emergency medical response (indoor and outdoor) we can assist you to implement the required programmes including AED implementation and Chest Compression Programmes, EMS Kids and more. We are also certified to internationally authorise training centres or sites.
Community Outreach Programmes
National Ambulance is committed to ensuring and enhancing the health, safety and the quality of life in our community and providing emergency medical services awareness. Our commitment to saving lives in the communities we serve extends beyond the back of an ambulance. One of the primary roles of our Education and Training department is ongoing community outreach. Our programmes spread EMS awareness and inform/ teach those we serve on what to do in medical and traumatic emergencies in a variety of ways and channels.
In line with our commitment to corporate social responsibility, we form partnerships and work with local government, healthcare systems, businesses and non-profit and international organisations on projects that promote and enhance the wellness, health, and safety to collectively help impact the lives of the people we serve. We offer a variety of community outreach programmes and public awareness campaigns including Hands only CPR, CPR in schools, Car Seat Safety, Stop the Bleed, AED Training, EMS Kids, EMS awareness and more.

Service Highlights:
Extensive experience in delivering EMS Education Programmes in the UAE and the region
Highly experienced, qualified and internationally accredited educators and instructors
Following National Association of EMS Educators' methodology in delivering EMS education
Internationally accredited and authorised provider of NAEMT, AHA and ASHI Training
An authorised National Registry of Emergency Medical Technicians Recertification site
Academic excellence and skills mastery a top priority
Utilizing latest technology and science
Implementing a quality centred and safety first approach
Offering flexible in-person, blended and virtual training options
We are ready to support you, are you prepared?
We can fulfil your safety training needs and provide you with the awareness and competencies required in any emergency situation
Contact Us
Have a question for us? Call us or fill an enquiry form to contact us for assistance. Our team will get back to you as soon as possible.
+971 2 596 8600
Enquire Now