Services
National Ambulance
Event Emergency Medical Coverage
Keeping spectators and participants safe at events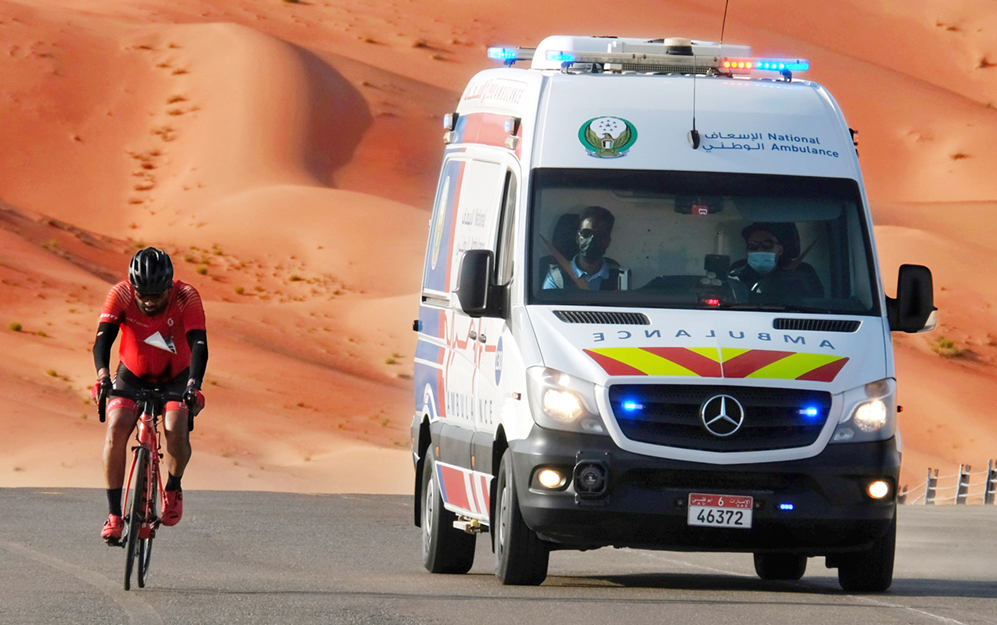 We provide emergency medical standby coverage from basic to advanced life support tailored to events of every type and size in the UAE. From risk assessment and pre-event planning to deployment and emergency management, our team has the expertise and experience to meet whatever the need, whenever required. All phases and aspects of event coverage are completed under strict clinical protocols and in compliance with local legislation and regulations.
Having effective medical services on standby at events can minimise risks and ensure people get immediate medical attention in the event of an accident or sickness. Our service provision ranges from a single medic with an ambulance to a multi-disciplinary team of Emergency Doctors, Paramedics and EMTs and multiple emergency vehicles. In large-scale events we utilise a complete incident command, control and communication structure and seamlessly integrate into the wider event organisation system including the coordination with other emergency service providers. Our coverage includes fully equipped emergency vehicles fitted with specialised portable medical equipment, first aid posts, foot patrols, the utilisation of modern communication systems and technologies and logistical support.
National Ambulance UAE has extensive experience in supplying emergency medical coverage for a wide range of high-profile sporting and community events such as Formula One Grand Prix, ITU World Triathlon, UAE Cycling Tour, Abu Dhabi HSBC Golf Championship, Abu Dhabi Desert Challenge, Ras Al Khaimah's firework displays and other local and international events.
We are a trusted partner of Abu Dhabi Sports Council, Abu Dhabi Motorsports Management Company, and Zayed Sports City.
Service Delivery Key Points
Provides pre-event planning, advice and risk assessment, event medical management and post-event reporting
Extensive experience covering high profile events
Seamless integration with wider event organisation system
Caters for all types and sizes of events offering different levels of medical care
Ranges from a single medic to a multidisciplinary medical team with multiple emergency vehicles
Static and mobile standby options including ambulance deployment, foot patrols and first aid posts
Fully equipped ambulances fitted with portable AEDs and specialised medical and trauma equipment
State-of-the-art command, control and communication systems
Compliant with international standards and local regulations and legislation
Standing by in case of an emergency
From small groups to large-scale multi-sited/ multiple-day public events, we supply tailored emergency medical standby service to all types of events including:
Concerts
Community Sporting Events
Professional Sports Events
Exhibitions and Trade Shows
Community Events, Festivals and Fairs
VIP Events
Ceremonial Shows
Fireworks and Air Shows
Marches and Parades
TV and Film sets
And more…
We are ready to support your event
We will conduct a risk assessment and supply you with medical coverage at a level appropriate for your event so you can take comfort in knowing that we are there when you need us
Book Emergency Medical Cover for Your Event
To request a quote for National Ambulance to provide emergency medical cover at your next event, please fill out the form below and a member of our team will be in contact with you shortly.
Complete Form
Contact Us
Have a question for us? Call us or fill an enquiry form to contact us for assistance. Our team will get back to you as soon as possible.
+971 2 596 8600
Enquire Now
Event Emergency Medical Coverage Form
Thank you for requesting event emergency medical support from National Ambulance. Please submit this form at least 14 days prior to the event. If your request is urgent, call 02-596-8600 during business hours during business hours Monday through Thursday between 8:00 AM and 5:00 PM, and Friday between 8:00 AM and 12:00 PM. The service is provided only in the Emirates of Abu Dhabi, Ajman, Sharjah, Ras al Khaimah, Fujairah and Umm Al Quwain. The following form must be completed accurately so that we may assess the requirements for ambulance service provision and level of clinical cover. Our Event Team will review your request and contact you to further assess your event requirements followed by our quotation. Please note that completion of this form does not guarantee provision of service as certain criteria must be evaluated.