Services
National Ambulance
Non-Emergency Patient Transport Service (PTS)
Ensuring patients are safely and comfortably escorted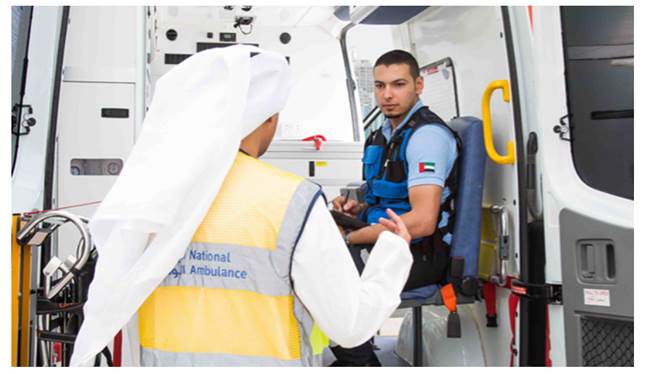 We provide a professional non-emergency patient transport service for those who need to be transported between healthcare facilities or between home/airport and the healthcare facility. This service is for patients who require clinical monitoring or supervision during transport but do not require a time-critical ambulance response. Patients who are seriously ill or their life is at risk should call 998 to request emergency ambulance.
Our multidisciplinary team provides a specialised support using state-of-the-art equipment required to ensure a smooth and safe journey for the patient. Our emergency vehicles are equipped to the highest standard for patient transfer service with a stretcher, cardiac monitors/defibrillators, pain relief and other life-saving medical equipment.
The service operates on a 24/7 basis by prior appointment within the UAE and caters for walking, stretcher-bound or wheelchair patients. All patient transports are completed under strict clinical protocols and in compliance with local legislation and regulations.
Service Delivery Key Points
Operates 24/7
within the UAE
Includes inter-facility transfers, discharges from hospital to home, and transport to and from medical appointments
Offers ground and air ambulance transport by qualified and highly trained medics
Fully equipped ambulances fitted with life-saving equipment
Caters for walking, wheelchair and stretcher-bound patients
Implements a patient-centered care approach
Operates within international standards and strict clinical protocols
Complies with local regulations and legislations
Require our service or have further enquiries?
Book an Ambulance
Do you require professional non-urgent ambulance transport to, from or between healthcare facilities? Request a quote by filling the Non-Emergency Patient Transport Form and our team will get back to you within 48 hours.
Complete Form
Contact Us
Have a question for us? Use this form to contact us for assistance. Our team will get back to you as soon as possible.
Enquire Now
Non-Emergency Patient Transport Service Form
Thank you for choosing National Ambulance to provide you with the Non-Emergency Patient Transport Service (PTS). Please ensure that this form is completed within at least three days of the intended transport date. If your request is urgent, call 02-596-8600 during business hours Monday through Thursday between 8:00 AM and 5:00 PM, and Friday between 8:00 AM and 12:00 PM. The service is based on certain criteria and your request will be reviewed by a National Ambulance Medical Professional to ensure the patient is suitable for transport. If not, you will be notified accordingly. It is extremely important that all of the questions/ fields in this form are answered/filled accurately. You might be asked to provide further information before your request is approved. Upon approval, our PTS Team will contact you to confirm booking details along with payment amount. In some cases, we will require an escort to accompany the patient during the transfer (home or hospital nurse). In these circumstances we will notify you prior to the transport.